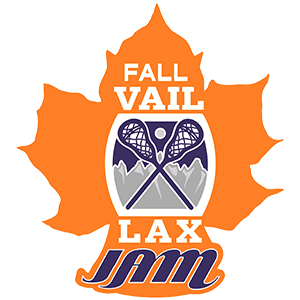 Dates:
October 21st and 22nd
Location:
Eagle County Fairgrounds Sports Complex
Join us for a fun and exciting Fall lacrosse tournament in the Vail Valley. The Fall Vail Lax Jam will be a 7 vs 7.
(2 attack, 2 midfield, 2 defense, 1 goalie) game format on a modified field size. This game format is a high tempo style of lacrosse that is exciting to watch and fun to play.
The Fall Vail Lax Jam provides divisions for both YOUTH and HIGH SCHOOL boys and girls.
Fall Lax JaM
Youth Boys AND Girls  Divisions
Grade based on school year 2023 – 2023
2nd Grade & Under
3rd – 8th Grade
Email ad@vaillax.com  for availability
3 games Guaranteed – Scheduled Saturday and Sunday
High School bOYS AND Girls  Divisions
Boys High School Varsity
Girls High School Varsity
3 games Guaranteed – Scheduled Saturday only
3 games Guaranteed – Scheduled Saturday only
Overview
2nd & Under = 4 v4 no goalie
3rd Grade – High School = 7 v 7
Modified field size
20 minute running halves
Overview
2nd & Under = 4 v4 no goalie
3rd grade – High School = 7 v 7
Modified field size
20 minute running halves