Vail Valley Lacrosse Club (VVLC) offers year around lacrosse programming ranging from clinics, camps, leagues and travel tournament competition. While we offer year-round programing, the Spring, is the main season for lacrosse at all levels. Our spring lacrosse season will typically start at the end of March and conclude around Memorial Day. The Spring season includes multiple practices a week and 4 to 5 tournaments. The Summer clinics and camps offered are a great introduction to the sport as well as an opportunity for experienced players to keep their skill sharp. During the Fall, VVLC offers a great offseason league option with weekly practices and 2 tournament options. We are very lucky to have a great indoor turf facility in our community (the Mountain Rec Field House in Edwards) to be able to host clinics throughout the winter months. The winter sessions are a great way to knock off the rust and prepare for the spring season. All of these inclusive programs are available to Boys of all levels from 3rd grade through 8th grade.
Experience the fastest game on two feet
You can find great resources and information about Boys lacrosse on the USA Lacrosse Website, including the 2022 USA Lacrosse Boys' Youth Rulebook that can be found HERE. Tournaments may modifying some of those rules and the 'house' rules will be posted when available.
Equipment Needed:
Helmet
Stick
Gloves
Protective cup
Arm/Elbow pads
Shoulder pads
Mouth guard
Cleats/athletic shoes – lacrosse, football, or soccer cleats all work great.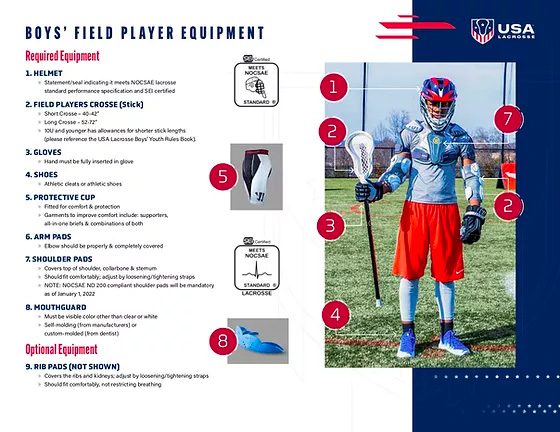 New Rule for 2022 Shoulder pads
New equipment shoulder pad rule for all boys age groups effective January 1, 2022
Chest protectors and shoulder pads for boys' and men's field players must meet the NOCSAE performance standard ND200.
All chest protectors and shoulder pads must contain the NOCSAE logo and SEI certification mark on the actual pad for the product to be legal for play.