Vail Valley Lacrosse Club (VVLC) offers year around lacrosse programming ranging from clinics, camps, leagues and travel tournament competition. While we offer year-round programing, the Spring, is the main season for lacrosse at all levels. Our spring lacrosse season will typically start at the end of March and conclude around Memorial Day. The Spring season includes multiple practices a week and 4 to 5 tournaments. The Summer clinics and camps offered are a great introduction to the sport as well as an opportunity for experienced players to keep their skill sharp. During the Fall, VVLC offers a great offseason league option with weekly practices and 2 tournament options. We are very lucky to have a great indoor turf facility in our community (the Mountain Rec Field House in Edwards) to be able to host clinics throughout the winter months. The winter sessions are a great way to knock off the rust and prepare for the spring season.
All of these inclusive programs are available to Girls of all levels from 3rd grade through 8th grade.
Experience the fastest game on two feet
You can find great resources and information about Girls lacrosse on the USA Lacrosse Website, including the 2022 USA Lacrosse Girls' Youth Rulebook that can be found HERE. Tournaments may modifying some of those rules and the 'house' rules will be posted when available.
Equipment Needed:
Goggles
Stick
Mouth guard
Cleats/athletic shoes – lacrosse, football, or soccer cleats all work great.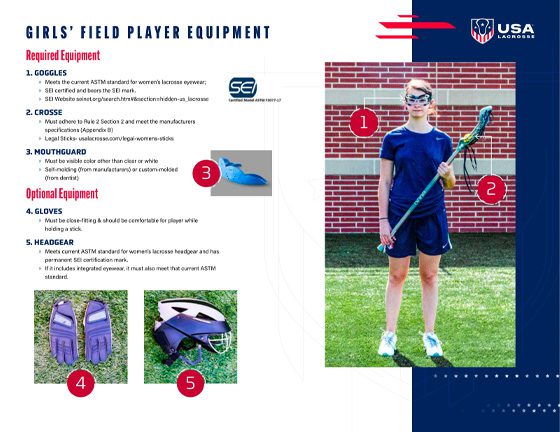 Be prepared for cold weather during practice in the early spring and late fall
Multiple layering options to stay warm and dry (try to avoid all cotton)
Girls should always bring a pair of gloves for cold days. A liner type gloves with textured grip or gloves with leather palm will work best. We see a lot of girls pulling jacket sleeves over their hands to hold there stick when it is cold (holding the metal stick with bare hands on a cold day is not fun).
Tights or sweatpants (try to avoid all cotton).